Likouala
February - March 2017
Congo Brazzaville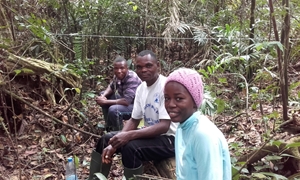 During February and March 2017, University of Leeds post-doctoral assistant Greta Dargie and Université Marien Ngouabe student Louvoundou Lisa travelled to the Likouala Department in the north of the Republic of Congo to remeasure forest plots as part of a much wider forest recensus to capture any effects of the 2015 El Niño. The pair started their adventure in the Lac Télé Community Reserve. With local residents providing assistance, the first field site was a small seasonally flooded swamp forest just 3 km from the village of Epena, giving the pair an easy start to the field campaign.
A few days later the pair headed south down the Likouala aux Herbes river to the village of Itanga, where after visiting the village elders to ensure the forest spirits were on their side, the pair headed into the forest for three nights accompanied by two very experienced assistants from Itanga, to change over dataloggers, installed in the swamp forest to measure water table levels.
The final stage of the expedition required Greta and Lisa to travel to the capital of the region, Impfondo, where they hired a boat to take them down the Ubangui river, which forms the border between the ROC and DRC. An overnight stop was made at the village of Bolembe where they collected three local residents, some of which have been assisting the University of Leeds in the field for over 5 years now. The team then travelled a little further south to the nearby village of Ekolongouma, where the team left the boat and started their walk into the forest. The team recensused a total of four forest plots, two in terra firme and two in swamp forest. More dataloggers installed along a 9 km transect into the swamp forest, were also changed over and along the walk the walk the team spotted plenty of signs of elephant and gorilla activity, including a muddy gorilla hand print on some leaves. Overall the trip was short, as swarms of bees invading the camp daily forced the team to start work before sunrise and not return until sunset, meaning work was completed swiftly. Needless to say, all were relieved to return to the sanctuary of the bee-free village.