Liberia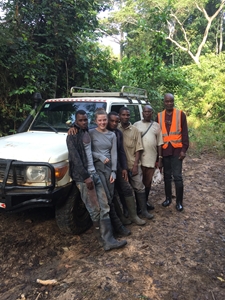 On an expedition to recensus eight long-term forest plots, University of Leeds PhD student Amy Bennett travelled to Liberia in November. Trained in the field by Simon Lewis, they led an experienced team which spent 7 weeks assessing the impact of the 2015-2016 El Niño.
El Niño is a climatic event whereby higher sea surface temperatures in the central and eastern tropical Pacific Ocean change atmospheric conditions. The 1997-1998 El Niño was strong with record breaking high global temperatures, extreme droughts in the tropics, major forest fires across Southeast Asia and parts of Amazonia, and a record annual increase in atmospheric carbon dioxide concentration. Yet, no plot networks existed in Africa at that time, so little is known about the impacts of El Niño on African forests. The El Niño of 2015-2016 was also strong and shows many parallels, and utilising the AfriTRON network we can investigate the impact of a strong El Niño on African forests.
For this project over 100 plots are being re-censused across Africa, all of which have at least one census interval prior to the El Niño. The aim is to evaluate and understand the impact of the 2015-2016 El Niño on the tropical forests, helping to provide insight into the ecological impacts of hotter and more extreme conditions predicted for the future climate.
These Liberian forest plots, in Grebo National Forest, and Cavalla Forest, were founded in 1978 by a Liberian-German consortium of forest researchers led by Hannsjoerg Woell, re-established by Simon Lewis in 2007, and re-measured in 2014 by Wannes Hubau. This fifth census, makes them the longest continuously monitored forests in Africa. Remarkably, expert Forestry Development Authority botanist Sylvester Chenikan has been present for all censuses ensuring continuity of methods over almost four decades. The expedition was extremely successful thanks to the assistance of the Forestry Development Authority of Liberia, especially to Armandu Daniels.