Sette-Cama, Moukalaba-Doudou, Haut Abanga
January - April 2014
Gabon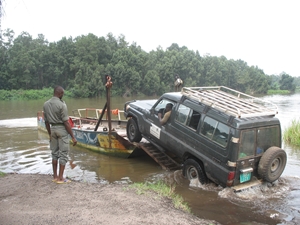 After fattening up during Christmas Dr Cuni Sanchez and her team continue the field work. They go south-west, to sample 3 plots. Two small transects of costal forest in Sette-Cama, a small fishing village, and one in the National Park of Moukalaba-Doudou. Getting to the beautiful Sette-Cama village is not easy: for the last 200km a special strong 4x4 car with special tube for the engine is needed, as the car has to cross not only large sandy areas but also streams and swamps (the water gets inside the cabin). After Sette-Cama, the team tries to find the plot in Moukalaba-Doudou without success: set up more than 30 years ago and with only a small map as reference… after 14 days of walking up and down those steep hills the team gives up. Nice viewing of wildlife and large trees, but no plot to be seen. They go back to Libreville to find a better map.
After the south, the team goes back to Mount the Cristal: there was one plot missing there. They find it, measure it and collect what might be another new record for Gabon… Mounts de Cristal, and amazing area (if it wasn't for the rain).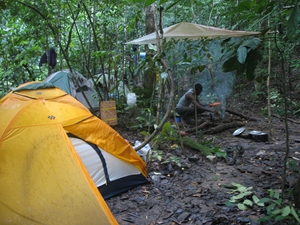 Then, back the north, Haut Abanga area. The team samples 3 plots in a Forestry Concession which are in a walking distance from a Forestry Camp. Nice and easy for once. Then, they go to the Park National d' Ivindo again, this time to the southern part and they sample one plot there (4 days to find it, 4 days to sample it… it cannot always be nice and easy). At least they are happy to find it.
Finally, they go south-east again, to sample one last plot in Franceville. Hope they find it!